OPINION
Haiti, Poems and Drawings
"It (his death) is something that cannot be celebrated, because he departs with the truth about many." Steve Biko
the dead lived in caskets
their eyes shorn
suddenly
of a wisp
of unwept
agony
the dead saw
the living
in complete
congruity
as the living rushed
to be next to them
in death
life merely stammers
in death
eyes remember
the strangeness
of its first dawn.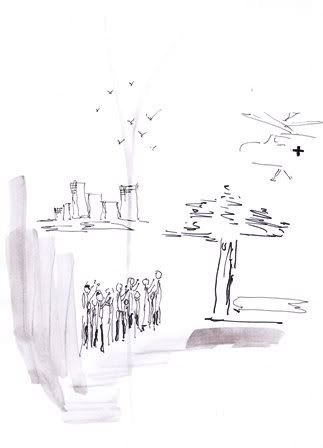 helicopters crossed a torn sky while birds escaped on to the other side people stretched their hand long people peered at the hole for long people caressed the tear for long there were no stars there wasn't any sun the birds never came back.
Poems and Ink Drawings by Amitabh Mitra

Keep reading for comments on this article and add some feedback of your own!
Haiti, Poems and Drawings
Article
» Published on June 15, 2010
» Type: Opinion
» Filed under:
Author: Amitabh Mitra
RSS:
Subscribe to RSS 2.0 feeds for: