REVIEW
Book Review: The Tunnel at the End of Time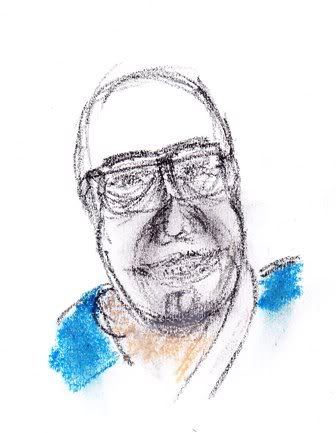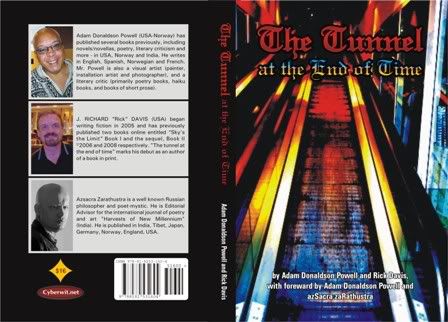 I met Adam at Oslo. A big bear of a person with the gentlest nature and a lovable personality, he remains one of my closest friends.

Yet time and again I have tried to understand him, understand the mind that seems to work overtime, the art of reproducing the images on canvas and words remains a perennial obsession. I have read his other poetry books and marvelled at this superlative mind.

To me, it always seems that he has been able to grasp the aura and time, a steady stream of images that is unstoppable, sometimes virulent yet simple in afterthoughts.

The Armageddon was inevitable...
We needed it, and so we created it.
But it is only illusion...

But what happens next -

The Tunnel at the End of Time is a collection of poems, prose poems and story like poems by Adam Donaldson Powell and Richard Davis. The Foreword is jointly written by Adam and Azsacra Zarathustra. Azsacra is a well known Russian Mystic Poet and has been widely published.


Where am I, Vrebatima?
I am lost in my own transformation …
in the winter of my own samadhi.
Wake me up from my dreams …
but let me hold onto my illusions
and my delusions.

The eventual clash of illusions and delusions are inevitable, it with and within us at all times and strange enough nobody gives the thought of liberating it. The book starts with such ultimate sense of fulfilment but then the poetry and the eventual flow of plasmic willingness happens in multiple streams, multiple layers and multiple living thoughts.
The book reminded me of the movie,
Matrix
directed by Larry and Andy Wachowski which mentioned for the first time, a simulated reality. The DVD sold three million copies in the US in 1999.
The reader is caught in an iron clasp grasp and taken in strange speeds that seem to stay along with the mind. There are simulations of words and images in a three dimensional effect, sometimes even in reverse moving strata at the same moment when we are going ahead.
So what really is
Tunnel at the end of Time
, where does it start and where should it end? I as a medical doctor and a poet have often encountered such simulations which aptly brief, seemed to jolt me out of consciousness and that is where the eternal mystery lies. What seems as poetry and the poet a conjurer of words may not be so, they are mere pathways to reach collusion levels in an unsettled time.
I beg to differ from other reviewers who have compared Adam's poetry to British Romantic Age Poetry and others who have tried to unveil his poems using crutches from modern literature. Contemporary Poetry has broken the realm of sensibilities, a huge dam that has finally enveloped aesthetic congruency in a highly developed notion of sheer flexible imagery.
Adam's poetry remains unclassified, as it is a class in its own. I would portray him and his friends in cult dimensions in Europe, their poetry would be read and reread in times to come.
Pastel Drawing by Amitabh Mitra
Keep reading for comments on this article and add some feedback of your own!
Book Review: The Tunnel at the End of Time
Article
» Published on March 10, 2010
» Type: Review
» Filed under:
Author: Amitabh Mitra
RSS: