REVIEW
Photo Essay: Hotel Russell in London
In my opinion this is a terracotta monstrosity. The colour jumps out and beats you up as soon as you heave to sighting distance. Something that should be restricted to tiles and pots has transmogrified into this giant crenulated, over engineered, full of nooks and crannies and bits hanging off building. As I described it to my sister, this is a Gothic monstrosity which seems to be a combination of a mad Ludwig Castle, the Lubyanka Prison and the Adams Family Mansion. As it so happens, the building with about 380 rooms was constructed in 1898 by the same firm which was also involved in the building of the Titanic. I am surprised that this building hasn't sunk as well, but apparently the ballroom has similar fittings as that of the Titanic. I did not get a chance to go inside the hotel, but from outside, I think it looks really weird. The architect was Charles Fitzroy Doll. It was bomb damaged during the second world war, but has been restored now. But enough of history, lets get to the photographs.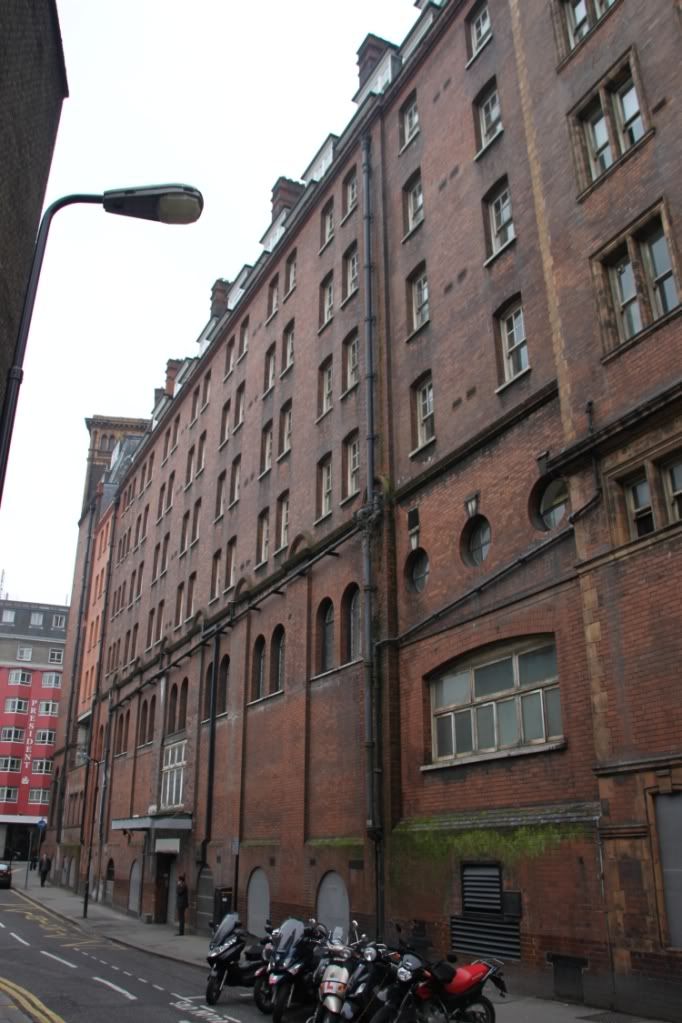 As you come around the exit of Russell Square Tube Station and then turn left to go to the British Museum, your eyes are drawn to this Lubyanka Prison look. This is the back end of the hotel and I ask you, doesnt this look like a prison? All manky, leprous, with mould growing and worse – green slimy moss hanging off the ledges. At the far end, you can see a square tower, apparently this was modelled after Italian plaza towers. It is just bizarre to see this strange building with various bits almost like bolted on.


You walk on and see one of the side entrances. It has all kinds of strange stuff hanging off it. The panel above the arch says Russell Rooms and the date 18 on the left column and 98 on the right, meaning that this was constructed in 1898.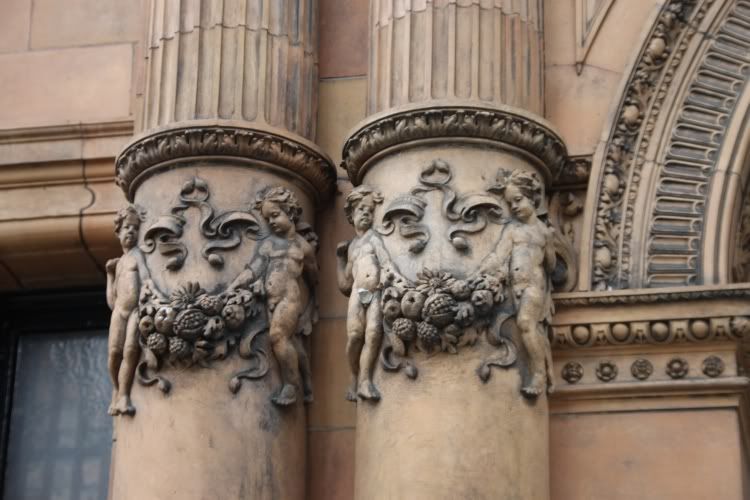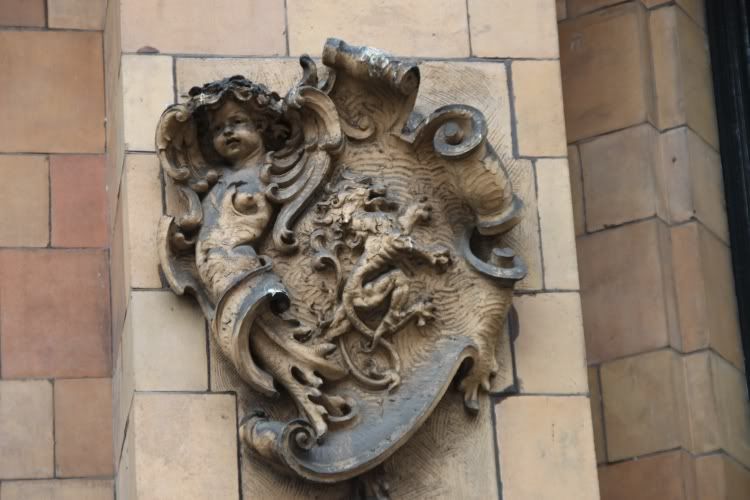 Very sad looking cherubs on the left and a strange looking sculpture on the right. Looks like a cherub emerging from an exploded sea shell.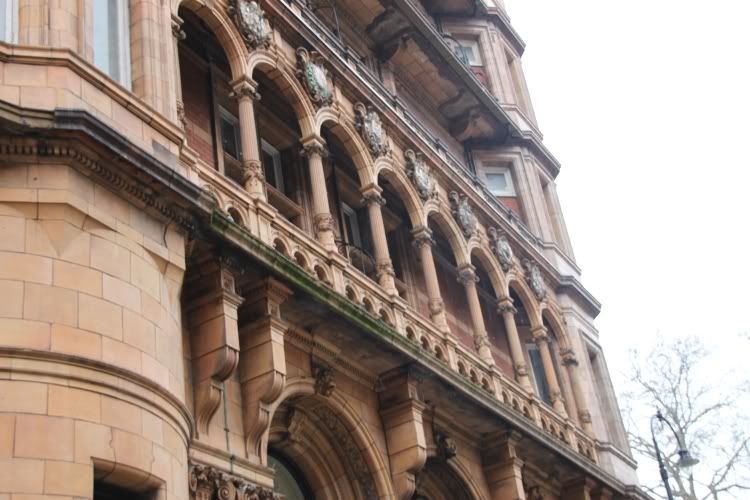 Then you keep on walking and your eyes fall on this strange balcony with slender columns with hardly any space between the columns and the wall inside. So it will be almost impossible to walk on that balcony. So is this for the window washers? Surely it's an overkill to have this over sculpted nonsense? The balcony also has a frieze running on the top with shields representing various countries.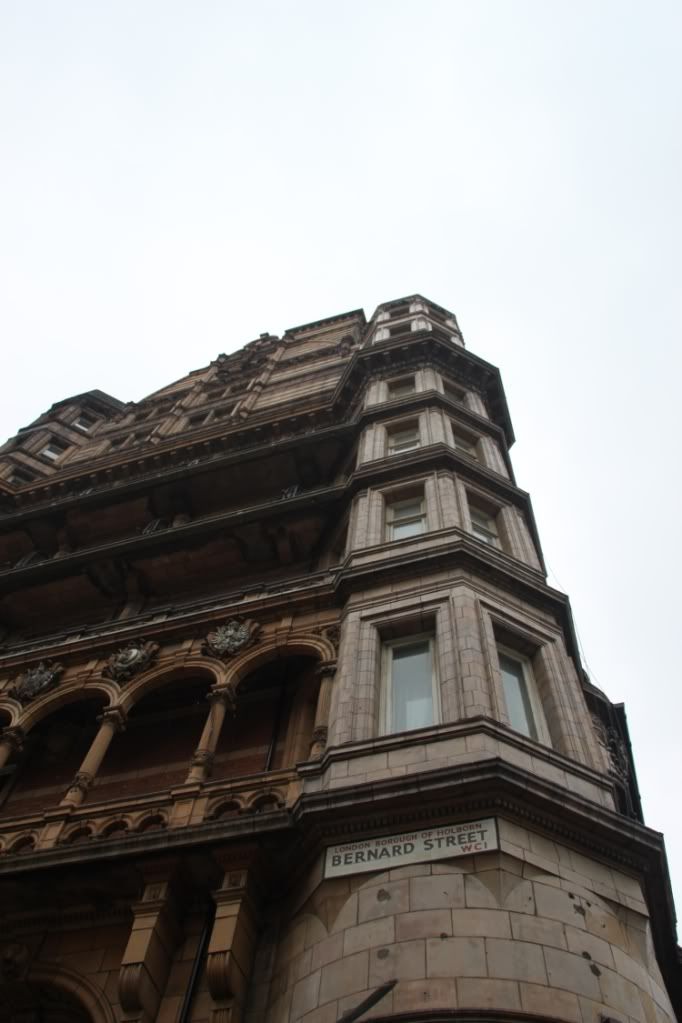 By this time you have come to the corner of Bernard Street and Russell Square and you notice a distinct change in the building - the architecture changes, the stone changes, the silhouette changes, everything changes. It is almost like somebody else made the corner, no continuity at all.

Turn the corner and you see the silly balcony extending down the front.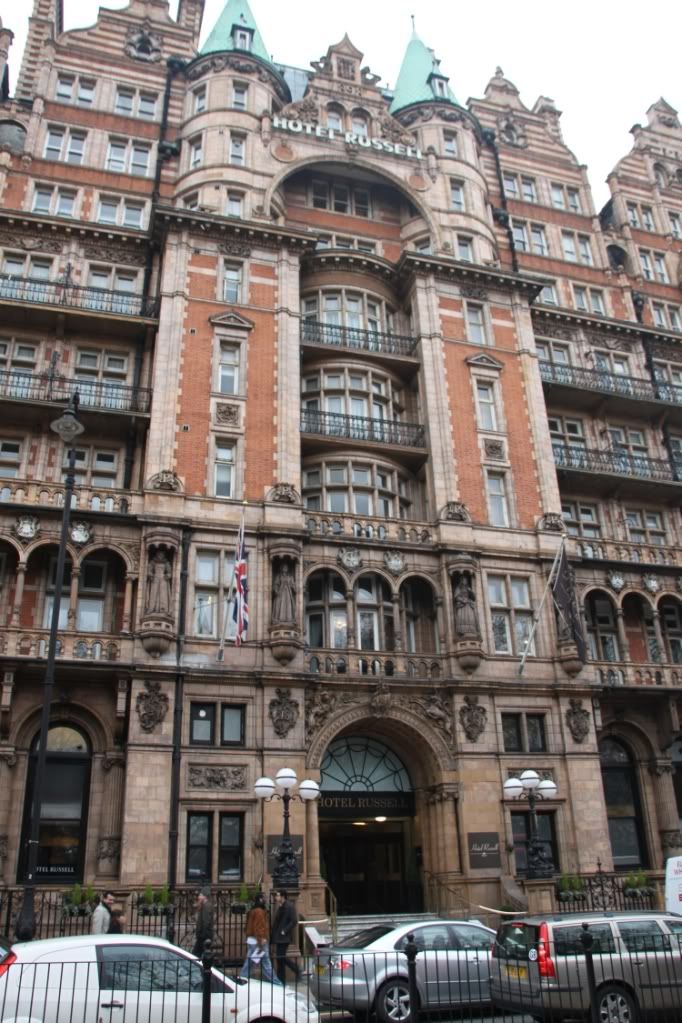 Here's the front of the Hotel. Now I ask you. Just look at it. It has square frontage, it has round frontage, it has roundels, it has ledges, it has statues, it has shields, it has a balcony, it has round bright green copper triangular Dutch roofs, it has French chateau triangular roofs on the side and then it has couple of limp flags hanging. Welcoming? I think it is about as welcoming as a dank dripping cave in Siberia.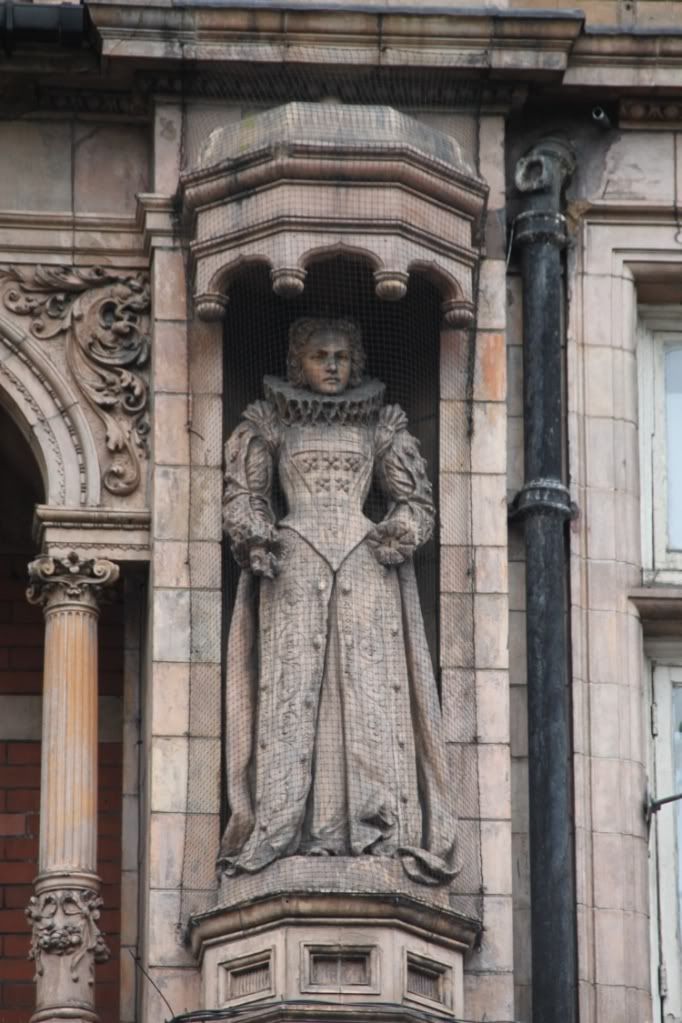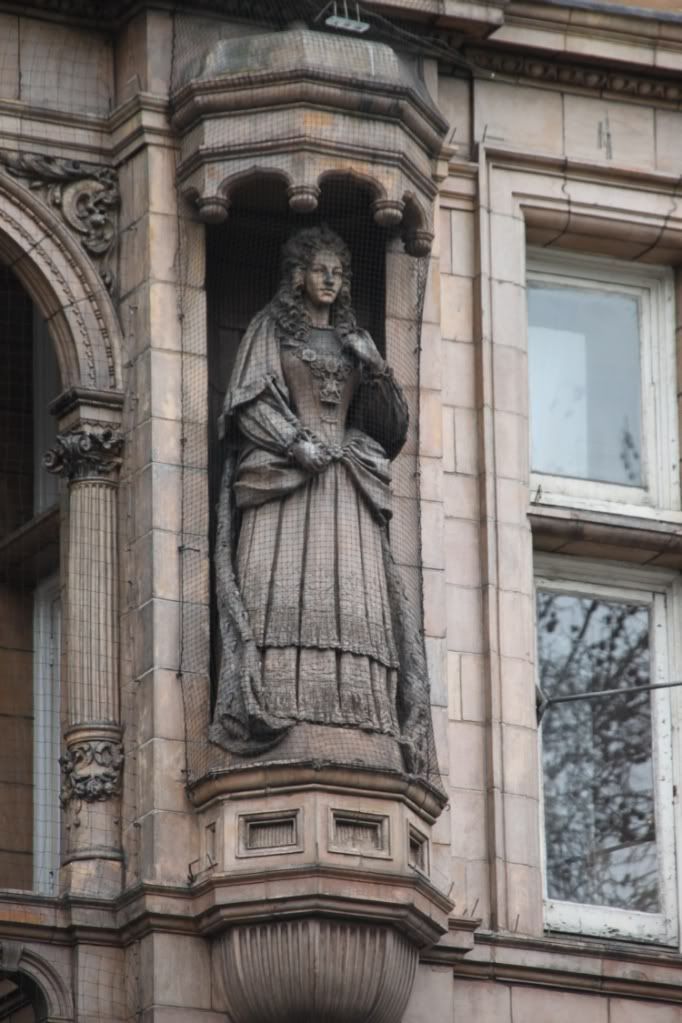 Out of the blue (or terracotta even), there are four statues of four British Queens, sculpted by Henry Charles Fehr, looking glumly down at the street and at the guests who are entering the hotel. Now why on earth would you suddenly hoist these up to look down on your guests? I have no idea. It is not like they stayed at this place or they will be entertaining the guests or anything like that. Very bizarre. And then besides the dirty and dusty look, they are covered with anti pigeon mesh nets, which makes them look even more jaundiced and miserable.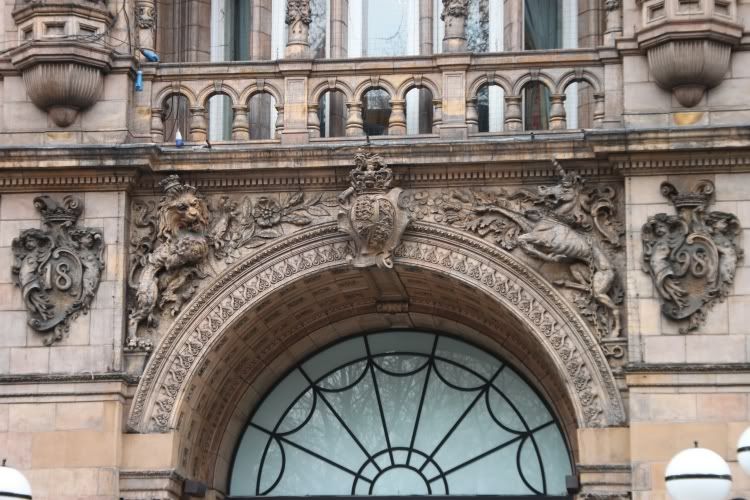 This is at the top of the arch. Its a representation of the Royal Coat of Arms of the United Kingdom with a lion and a unicorn.


The top of the arch has a representation of the shield itself with a bunch of supine lions. Although why on earth are the lions and unicorns being rude and sticking out their tongues I dont understand.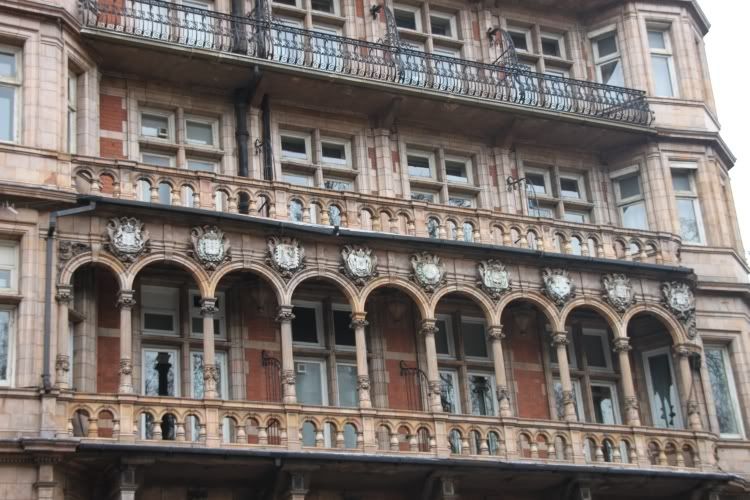 The row of shields which represent various countries continues around the front as well and were designed by W.J Neatby although they are now a bit ragged and miserable. Plus I am sure most of the nations represented would have long since gone or merged or something after the series of wars, boundary and political system changes in the 20th century.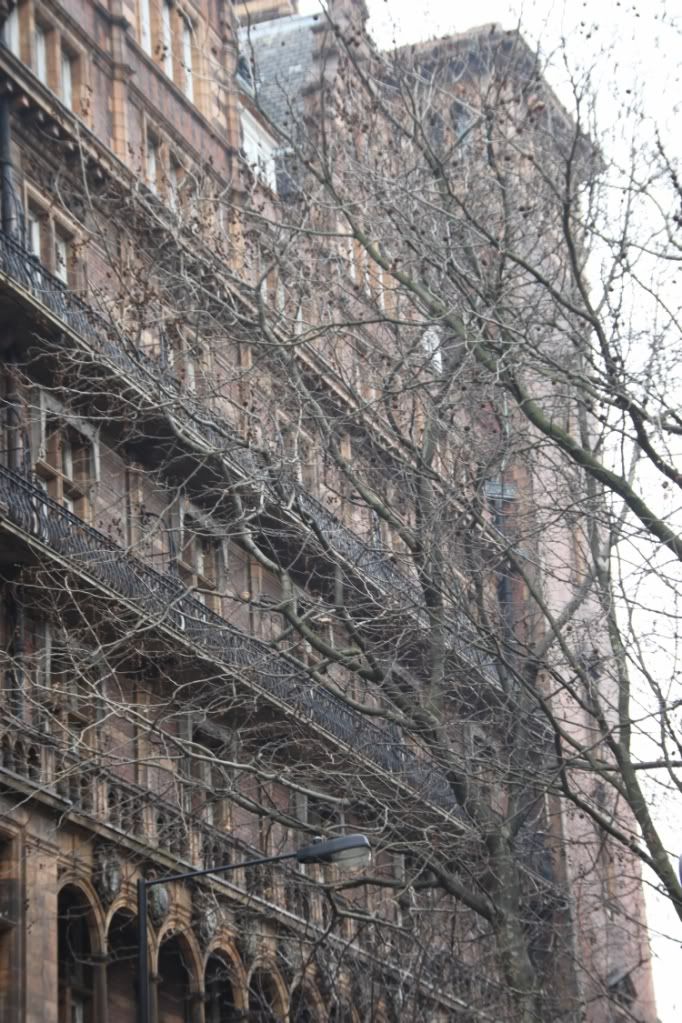 Keep on walking to the end and peek around expecting things to get better, but they do not. Same old. Same old boring miserable looking building. With the juxtaposition of the winter trees, it really really looks gloomy.


See the perspective? its dark, dingy, over engineered, small windows, and just looks hugely gothic and ghostly.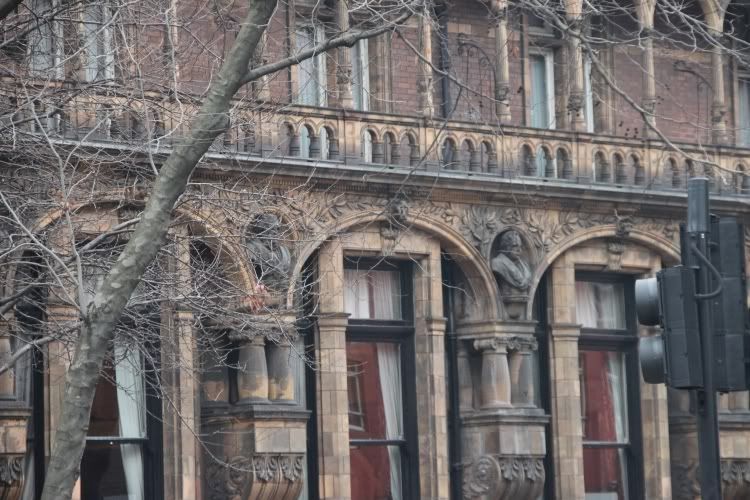 Is that the end of surprises? Nope, there are four busts of British Prime Ministers along a line. Now why on earth would you have something like this? Very strange. So would I stay in this place? No way, Jose. But I never thought that I will hate a building, but this comes close to it.
Here is the full slide show
Keep reading for comments on this article and add some feedback of your own!
Photo Essay: Hotel Russell in London
Article
» Published on February 08, 2010
» Type: Review
» Filed under:
Author: Dr Bhaskar Dasgupta
RSS: