OPINION
Congo Connection 1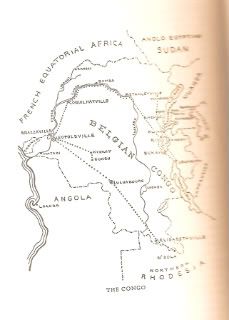 Many years back I had been staying at a Bed and Breakfast place in Pretoria while studying at the university there. This boarding house was economically suitable to students like me and was bereft of nearly all luxuries. It was run by a Philippino couple to whom I would always remain grateful. Every day morning all the boarders use to meet over a frugal breakfast after which we all moved out to our specific destinations.

It was during one such breakfast get togethers , I noticed an elderly white gentleman who always sat alone at a table in the corner. I approached him one day and asked his permission to sit at his table.

'No problem young man, Welcome', he countered

I gave vent to my curiosity and asked him about his life


"You see my dear friend I actually belong to the Belgian Congo. I came to South Africa in the seventies and have been here since then. I never married and I actually live in this boarding house'. He said while applying margarine over his bread

He continued with his story over tea and sandwiches while I hung on to all his words.

"I own about sixty odd properties in Johannesburg ranging from houses to flats in premier locations which have been rented. I have a manager who looks after my real estate and keeps in touch with me on the phone', he revealed with a mysterious smile, 'but he too doesn't know my whereabouts'.
'
I was born in the Belgian Congo in Leopoldville'. He had the same look on his face as a person in South Africa who would mention about Salisbury. 'My father had a thriving business in timber and furniture but then the revolution arrived. I and my brother had to flee to South Africa'.
'
I stay here, only sometimes I go to Paris where I have an apartment but it is philately that keeps me going. After the breakfast and going through all the South African newspapers, I am on the phone selling and buying stamps around the globe'. He concluded with a ringing laughter.
'Now tell me, he asked, would you tell anybody about me'
I looked at his smiling eyes and the crow feet at its angles, 'perhaps not' I said

I had forgotten about him until recently when I saw the young rebel leader General Laurent Nkunda in Eastern Congo dancing with his soldiers. A tall handsome man, he is always found smiling. He holds a staff at all times the same way Charles Taylor use to do in Liberia. But Congo and Liberia are different and so is General Nkunda.

The Belgian Congo achieved independence on June 30, 1960 under the name "Republic of Congo" or "Republic of the Congo" ("République du Congo"). Shortly after independence, the provinces of Katanga (led by Moise Tshombe) and South Kasai engaged in secessionist struggles against the new leadership. On January 17, 1961, Katangan forces and Belgian paratroops, supported by foreign interests intent on copper and diamond mines in Katanga and South Kasai, kidnapped and executed Patrice Lumumba. Patrice Lumumba who won the parliamentary elections by a big margin was elected as the Prime Minister. Much later I would come across the Patrice Lumumba Friendship University in Moscow.

Following five years of instability and civil unrest, Joseph-Désiré Mobutu, now Lieutenant General, overthrew President Kasavubu in a 1965 coup. He had the support of the United States because of his staunch opposition to Communism. A one-party system was established, and Mobutu declared himself the head of state.

In a campaign to identify himself with African nationalism, starting on June 1, 1966, Mobutu renamed the nation's cities: Léopoldville became Kinshasa [the country was now Democratic Republic of The Congo – Kinshasa], Stanleyville became Kisangani, and Elisabethville became Lubumbashi. This renaming campaign was completed in the 1970s. In 1971, Mobutu renamed the country the Republic of Zaire, its fourth name change in 11 years and its sixth overall. The Congo River was renamed the Zaire River. In 1972, Mobutu renamed himself Mobutu Sese Seko Kuku Ngbendu Wa Za Banga.

I came across a book titled 'The African Giant, the story of a journey' by Stuart Cloete and published by Collins of London in January 1957.

In his chapter aptly titled 'The Land of Masks' about Congo, he writes,
Renders had been in the Belgian Resistance and had been taken by the Gestapo. While being examined by them, he saw a girl hanging by her hand, her back completely stripped of flesh. One is surprised and shocked at ritual murder and cannibalism among Africans, and one forgets the horrors of the concentration camps of Europe –of the Gestapo, the Russian secret police, even the chain gangs of Florida and the lynchings of the South. Yet the African killings of the fetishists and doctors are to them, a form of preventive medicine, of worship and religion, which gives them some justification.

His conversation with the Governor-General goes like this –
'Ah, monsieur' the Governor – General said, 'there are great anti-colonial factions in the world. UNO, America, India can see no good in what we do. Even some people in England, but as you have seen, we have done a lot and continue to do more and more. But the more industrial schools and hospitals, the more evolution there is, the quicker will the African demand the right to self- government. We forge weapons against ourselves. And what those others who criticise us, forget is that one does not destroy the mysticism of thousands of years in a generation. The African here as elsewhere, remains at once too eager and too recalcitrant; eager for the outward semblance of civilization, and recalcitrant as far as its inner meaning and ethics are concerned,'

The conversation ended when I said: "Your Excellency, what would happen if the white man left the Congo? How long would it last? "

"A few years," he said, "because we have built well. The buildings will stand."

"And then?" I said

"Then, monsieur, the forest will return."

This is what would happen in Africa if the white man left the country. War - a hundred wars at once. The destruction of the so called evolved or civilised blacks by the peasant farmers and a slipping back into the great African sleep from which we have attempted to arouse the continent.

Stuart Cloete believed passionately on the white man, who is god chosen to lead in Africa and the ugly claws of 'communism' that was slowly poisoning the African mind. In his dedication he writes, ' I dedicate The African Giant to the white men who have given their lives to Africa….' At no point he had mentioned the plunder of the African soil by the settlers. Many years later Mad Mike Hoare led a mercenary action in Katanga from South Africa killing thousands of men women and children by aimless firing at huts as he drove by. He also believed on the communist threat as written in his book Congo Mercenary. He lives in Durban.

In May 1997, Mobutu left the country, and Kabila marched into Kinshasa, naming himself president and reverted the name of the country to the Democratic Republic of Congo.

Mobutu's generals fled to South Africa with diamonds and sacks of foreign currency. They live behind high walls, electrified gates, manned by round the clock security and protected by vicious dogs in the suburbs of Johannesburg. They remind me of Major Dalim who assassinated Sheik Mujib and continued living under such protection. I met a few of them and under conditions of anonymity told me of life under General Mobutu.

References – Wikipedia
-The African Giant by Stuart Cloete Published by Collins, London 1957





Keep reading for comments on this article and add some feedback of your own!
Congo Connection 1
Article
» Published on December 11, 2008
» Type: Opinion
» Filed under:
Author: Amitabh Mitra
RSS: